This Seminar is Now over
Join Louisa Chan and Doctor Adam Sheck, the Family Relationship Doctor for a special tele-seminar on "Parenting Teens and Building Bonding Relationships".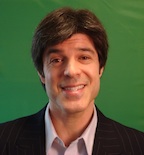 Doctor Sheck is a Licensed Clinical Psychologist in private practice in Los Angeles. He is the Director of Psychology Training at Airport Marina Counseling Services, where he trains Psychology and Marriage and Family Therapy (MFT) Interns preparing for licensure. Additionally, he also teaches graduate students in the Department of Psychology at Argosy University.  And, he is teaching his teenaged daughter to drive in Los Angeles.


Doctor Sheck originally began his psychology studies with a MFT Program and received a Master's Degree in MFT. He then decided to pursue his Doctorate and become a licensed Clinical Psychologist. Wanting to specialize in Couples Counseling, he then went through a rigorous year-long post-licensure training process to become Certified in Imago Relationship Therapy.

We are fortunate to have Doctor Sheck here on July 7th to share with us important and helpful tips on how we can build strong and bonding relationships with our young female adolescence.  For the mothers, this will be am especially helpful topic as Doctor Sheck will share from his rich experience both as Clinical Psychologist as well as first hand father of a teenage daughter.


Come to the call and find out:
– What is the foundation of a strong and bonding relationship with your teens?
– What makes it so challenging and trying to raise teenage daughters?
– Why is the mother-daughter relationship so intense and so "difficult"?
– What is 1 common mistakes mothers make when parenting teenage daughters?
– What are 2 tips that anxious moms can use as they raise their teenage girls?
– Tips for mothers who also have relationship challenges with senior moms.
– And answers to your most pressing question.


Depending on how we do for time, we will try and address your issues. And if we have too many questions well we may need to convince Doctor Sheck to offer us another tele-class.

You can enter your most pressing questions in the comment box below and Doctor Sheck will address them as best as he can depending on the available time.


Don't miss out. Even if you cannot join us for the live call, register so you can have access to the replay. And pass this invitation along to others who may find this helpful.  Remember to send in your questions and we will talk soon!