I hope you're gearing up for Christmas (if you celebrate it) and have completed all your holiday shopping. So I'll be brief with this email.

With the new year just around the corner I like to share something with you. Something that my health conscious friend Yuri has written on toxicity in the food we consume.

You see how we energetic or stressful we feel is directly related to the lifestyle we choose, the food we eat (or not eat), the activities we do (or not do) and the mindsets we choose to keep.
There are certain things you just need to know in order to avoid many of the common diet pitfalls that most people continue to make. Knowing these will help you make the best possible start to 2011.

And all of these "things" are disclosed in the free report here.

The first report you'll receive is called the "Toxic Side of Food" and in my opinion Yuri can be selling this information.

This report (which is yours free) is 68 pages of must-have health and nutrition information.

Not only does he expose 8 of the most toxic foods in our food supply but he also shows what these foods are doing to your body.

And you'll be blown away to discover that most of these foods are "every day" so-called "health" foods that you've probably been eating for years.

The second report he's giving you is called "5 Detox Scams to Avoid in 2011"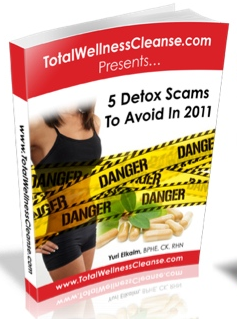 Considering that most of us look to cleanse our body from holiday excess when the new year rolls around, you'll want to know which detoxes to avoid.

You'll find out why these detox diets are dangerous and how companies are "tricking" you into believing that they're actually good for you.


I was even surprised to discover the one ingredient that most detox supplements use to make you believe that your colon is plugged with gunk!


These 2 reports are only available for download before 23rd December 2010. I wouldn't wait if I were you, especially if you're serious about transforming your health and your body this coming year!

What you do not know Can hurt you. Grab your free copies before they are taken down … hurry