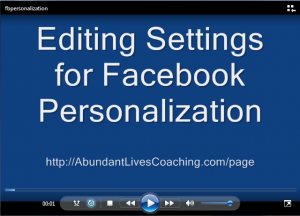 Facebook rolled out a new feature called Instant Personalization and enables sharing of your personal information with sites and applications external to facebook.

That is an attempt on Facebook's part to give us a greater social and personalized experience with our use of applications and websites outside of facebook.

Instant Personalization is a little like Facebook Connect in that it lets another site use information from your Facebook profile. But not everything about your personal profile is shared. It shares your name, profile picture, gender, network and friends with these partner sites and applications.

If you are concerned about this and if you do not want to share your information with these sites than you can change your settings – the default setting enables sharing of data. Here's a 2-minute video that shows you how this setting can be changed. You can view this in full screen mode if you click on the bottom right icon of the video player.
[S3VIDEO file='freeline/lms/fbpersonalization.mp4′ redirect='http://www.facebook.com/LouisaChan.AbundantLivesCoaching' wmode='transparent' width='320′ height='200′ bgimage='http://media.abundantlivescoaching.com.s3.amazonaws.com/freeline/lms/personalization.png' sitemap='true' thumbnail='http://abundantlivescoaching.com/wp-content/uploads/2011/02/personalization2-300×216.png/]

More On Instant Personalization Here. What do you think of this new feature? Do you have any concerns with this? I like to have your thoughts in the comments below.

And if you like this post, feel free to share this with your friends – just click the share / like button and/or leave me a comment below! I appreciate that very much.