Facebook Page – For Those Who Want To Promote A Brand or Services

This is Facebook 101 for newbies – so don't expect to see mumbo-jumbo and complicated in-depth study here (there's a place for that).

500 Millions people are using Facebook, about 70% of the users are outside the United States with more than 70 translations available on the site now.

Some are using Facebook to their advantage, some are not.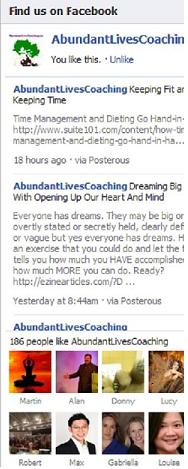 My intention is to share with you the basics of what works for Facebook – whether you are using it on a personal level or for your business. I see fundamental things that once changed can bring you much benefit and leverage. If left unchanged, they can cost you dearly in terms of your privacy, safety, time and effort.

Imaging building a large base of "friends" on your account only to get the Facebook slap (they close down your account). You have just wasted your time and effort in building your database! Imagine having your personal data shared online – we do not want to go there either! So to use this social media tool properly, we need to know some guidelines and play within the rules.

"There are too many people who think that the only thing that's right is to get by, and the only thing that's wrong is to get caught". ~J.C. Watts

We have seen why we do not want to have more than 1 personal Facebook profile account. We also do not want to use the profile page as a business entity i.e. not use your business entity name for your profile account and not conduct business activities using it either.

To do any form of promotion and branding, you can make use of the Facebook Page – which is also free and easy to set up and use. Here are some reasons why you will want to have a page:
Unlimited number of "fans" as supposed to limit of 5000 friends on your profile account

Promotion using links are allowed so you can conduct business activities (this is not allowed in your profile account)

Pages are public and are indexed by search engines and are part of Google Real Time Search. This means if you have a conversation around your business niche using certain keywords, these key words becomes your tool for bringing free traffic to your site. How? When others do a search online (using Google or Bing) and type in your keyword, your page could show up (depending on the keyword match and competition which I will not go into here). Doing this on your profile account does not have the same effect.


Watch this short video and get an overview of what you can control.




These are great tools that can greatly help you whether you are a Coach, an Author, Trainer, Stay-At-Home-Mom, Work-At-Home-Mom, PA/VA or an offline business owner. Often it does not require you to do a lot more to get great results. If you know the rules and play within the game you can leverage on technology and automation.


How is it possible that solo entrepreneurs are thriving with productivity without a team? They leverage on streamlined and automated critical processes. That is why I am so attracted to technology …


The key to success in life and business lies in discipline and consistency. Market leadership and expert authority is not built over night. And believe me, you ARE marketing and selling yourself everyday, in every situation whether you are in "Business" and "Sales" or not.


You need to consistently and regularly create and provide relevant and valuable content/solutions to your market, build relationships and trust before any other endeavors. Facebook Page is a platform that enables you to do that easily, regularly and inexpensively. Laying the right foundation using technology helps you move in the right direction with great leverage.


If you find this helpful I invite you to press "share" or "like" at the end of the post. Someone will be glad you share this with them. And stay in touch with updates of new videos and tips by signing up to be on my VIP priority list. You will find lots of useful tips and inspiring posts/articles prepared for you that may not be made available to the general public.